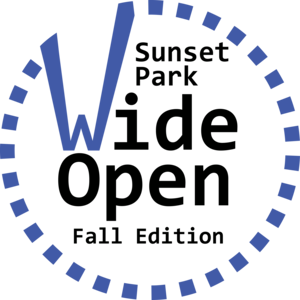 On October 18 and 19, the Sunset Park Wide Open Fall Edition event, co-presented by
NARS Foundation, J&M Studios, BOCCARA ART Brooklyn, BAF, Art Cake, Target Margin Theater, Tabla Rasa and ChaShaMa,
invites the public to visit exhibitions, to meet artists, curators, and researchers from all over the world and to experience the artistic process and the diverse range of artistic mediums presented in the intimacy of both studio environments and institutional contexts.
J&M STUDIOS
@jandmstudiosny
Friday, October 18, 6 - 9 pm
Saturday, October 19, 12 - 5 pm
J&M STUDIOS provides short and long term based rental work spaces essential for an community that seeks to develop their creative works and build their professional career.
Participating artists: Abigail Levine, Alison Owen, Caitlin Clifford, Claudia Cortinez, Daniel Eric Glass, Daniel Jay Genova, Elena Soterakis, Frank Born, Fred Fleisher, Fred Poisson, Hiromitsu Kuroo, Homer Shew, Ioana Manolache, Jade Chan, Jahyun Seo, Jelena Prljević, John Roach, Joshua Nierodzinski, Joyce McKee, Julia Elsas, Kathie Halfin, Kelvin Fichter, Keren Anavy, Laura Hildevert, Linda Loh, Mami Kosemura, Mark E Johnson, Naomi Nakazato, Niamul Bari, Noël St. John Harnden, Pesya Altman, Robert Melzmuf, Sandra Lapage, Sara Galkin, Sophia Chizuco, Tadasuke Jinno, Takayuki Matsuo, William Miller, Xavier Petromelis, Yasmeen Abdallah, and Yi Xin TONG
NARS Foundation
@narsfoundation
Friday, October 18, 6 - 9 pm
Saturday, October 19, 12 - 5 pm
NARS Foundation is a not-for-profit arts organization committed to supporting artists and curators on a local and international level through a residency, exhibition and outreach programs.
As part of the Sunset park Wide Open Event, NARS is pleased to present
The Grass is Always 00ff00
, an exhibition featuring works by Isak Berbic, Erica Molesworth, Carrie Elston Tunick, Joshua Citarella, Joshua Liebowitz, and Sorbus. The exhibition is curated by NARS' Program Director, Vanessa Kowalski and brings together works from artists living and working in both locally and abroad and is on view from October 18th to November 8th.
Additionally, the NARS Season IV Residency Artists will open their spaces to the visitors: Esther Hovers (Netherlands), Niklas Asker (Sweden), Jiin You (Korea), Fiona McGurk (UK), Martin Vongrej (Slovakia), Joonhong Min (Korea), Martin Désilets (Canada), Sophie Dupont (Denmark), Dominique Duroseau (USA), Ella Weber (USA), Tali Keren (USA), Tavi Meraud (USA).
Opening Reception:
Friday, October 18, 6 - 9 pm
Main Gallery & Project Space
BOCCARA Art Brooklyn
@boccara_art_brooklyn
Friday, October 18, 1 - 6 pm
Saturday, October 19, 1 - 6 pm
With its museum-like space spanning nearly 3,000 sq ft, BOCCARA Art Brooklyn highlights an important collection of historically influential artists while simultaneously dedicating its focus on emerging artists as well.
BOCCARA ART Brooklyn is pleased to present Obscured Threads, a two-person show featuring works by Benjamin Shine and Darryll Schiff.
BAF
Friday, October 18, 2 - 7 pm
Saturday, October 19, 2 - 7 pm
Brooklyn Arts Fellowship aka BAF Gallery is an art space established in 2016, with the goal of showcasing art of emerging and established artists. Located in the Greenwood/ Sunset park section of Brooklyn, the gallery is devoted to various art forms, from painting, drawing and sculpture to music, design and video. The work that will be on view during the open studio visits are in the final stages of production for the upcoming exhibit "The Birthright Series" by BAF Gallery owner and artist Aaron P. Simms. The works in the series are constructed using audiotape and videotape. Materials left by the artist's father after his passing. The exhibit will open late October 2019.
Art Cake
Friday, October 18, 12 - 6 pm
Saturday, October 19, 12 - 7 pm
Art Cake is a new organization dedicated to providing space for production and opportunities to explore creative practices. It features a multi-room exhibition and event space on the ground floor and a complex of affordable artist studios on the second floor.
Suzanne Bocanegra: Wardrobe Test
, the inaugural exhibition at Art Cake, is on view through November 17, 2019. Bocanegra's solo exhibition includes three recent large-scale works: Valley (2018); Lemonade, Roses, Satchel (2017); and Dialogue of the Carmelites (2018).
Artists participating in the 2019-2020 Art Cake Studio Program will also open their studios to visitors.
Tabla Rasa Gallery
@tablarasagallery
Friday, October 18, 6 - 8 pm
Saturday October 19, 12 - 5:30 pm
Tabla Rasa is an art gallery that profiles works of emerging, mid-career, and established artists in their 4000 sq. ft. historic turn-of-the-century carriage house in Sunset Park, Brooklyn, presenting solo and group exhibitions in a wide range of styles, themes and media including: painting, sculpture, installation, drawing, print, photography, digital, film and video.
Tabla Rasa Gallery is pleased to host two solo exhibitions: Carl Dimitri will present his narrative abstractions in "Urban Glyphs" our East Gallery.
Doug Newton will exhibit hyper realist paintings in "Hard Candy and Other Confections" in our West Gallery.
Opening reception
6:00 - 8:00 pm Oct 18, 2019
Target Margin Theater
@targetmargin
Saturday, October 19, 12 - 6 pm
Target Margin is an OBIE Award winning theater producing / presenting experimental plays and live performance in Sunset Park, Brooklyn.
Drop by any time to sit in on an open rehearsal of new works exploring the 1001 Nights being developed by TMT Associate Artistic Director David Herskovits and Associate Artistic Director Moe Yousuf.
ChaShaMa
Saturday, October 19, 1 - 5 pm
Sunday, October 20, 1 - 5 pm
For one weekend only, Chashama's studio hub at Brooklyn Army Terminal is open to the public! Explore new works from 96 visual artist studios, interact with our talented studio artists, and wander freely through the historic Brooklyn Army Terminal during Open House New York.
Chashama supports artists by partnering with property owners to transform unused real estate into spaces for artists to create, present, and connect with the mission to increase equity and bolster diversity in the arts.